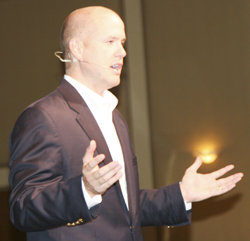 B21 is excited to have Jimmy Scroggins joining this year's B21 Panel @ SBC2010 (REGISTER HERE). Jimmy Scroggins currently serves as the Senior Pastor of the Historic First Baptist Church of West Palm Beach, Florida. Under his leadership, FBCWPB has grown to become the 50th fastest-growing church in America and the Baptist Messenger has named him one of the Top-Ten "SBC Pastors to Watch in 2010." He holds a bachelor's degree from Jacksonville University (the Harvard of the South- as he would say), as well as an M.Div and a Ph.D from the Southern Baptist Theological Seminary in Louisville, KY. Prior to his call to West Palm Beach, Scroggins served as the Dean of Boyce College (the undergraduate school of SBTS) from 2004-2008 as well as Student Minister/Teaching Pastor at Highview Baptist Church in Louisville from 1997-2008. Prior to serving in these capacities, Jimmy also served in various ministry capacities at churches in both Kentucky and Indiana.
Jimmy's call to ministry began with an opportunity to use his talent on the football field at one of our nation's finest military academies- West Point. However, after a bout with cancer shortened his career in both football and the armed services, God began orchestrating circumstances in Jimmy's life to reveal a firm call to Gospel ministry. Since that time, Jimmy's coach/military instincts have never subsided and God has used them to create in Jimmy's life a ministry that is marked first and foremost by its tremendous impact on the lives of young people, and particularly those of young men who are called to preach (including more than a couple B21 contributors). Under his leadership, young men have been called out and sent to preach the gospel in the Philippines, Mexico, Canada, Brazil, Morocco, Cambodia, and Vietnam, as well as in numerous major cities throughout the United States. The mentoring impact that Jimmy has had on hundreds of young ministers continues even to this day from his newest post in West Palm Beach.
Jimmy is, without a doubt, one of the most dynamic and effective leaders in the SBC as well as one the B21 guy's favorite Gospel communicators. In addition to his ministry responsibilities at the FBCWPB, Jimmy has served this past year as the First Vice President of the Southern Baptist Convention's Pastor's Conference. Jimmy has been married to Kristen for 16 years and they are the proud parents of 8 children (6 sons and 2 daughters). We are so glad to have Dr. Scroggins joining us on the panel for the B21@SBC event. He is both a voice you need to hear and an example you need to see.