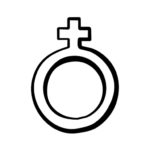 There were so many additional moments during the conference where the work and encouragement of God's Spirit was obvious.  In particular, were the testimonies last night of two women who have experienced God's transforming and sustaining grace.
First, we saw a short video testimony from Kim Wagner. Mrs. Wagner, wife of LeRoy, the Pastor of Dayspring Church in Hot Spring, Arkansas, has taught in Christian schools, is a women's Bible study teacher and conference speaker, and is a frequent panel guest on Revive Our Hearts.  Nancy Leigh DeMoss said they discovered through evaluations that Wagner's testimony was the single most impacting moment of the previous TW '10 conference.
Mrs. Wagner is a pastor's wife who struggled with understanding and living out true womanhood.  Admittedly, she frequently gave into the temptation to belittle and disrespect her husband.  In fact, it created such a struggle in their marriage that her husband sunk into a crippling depression.
But God, in His grace, opened her eyes to His design for her heart toward her husband through a small book written by Mrs. DeMoss.  Her heart was immediately transformed and, over time, the trust of her husband was won back and her family was restored.  Today, God's glory in magnificently on display through the peace of Christ that reigns in their family.
As a result of this testimony, many married ladies were convicted of their sin and stood to pray, consecrating themselves to be faithful in marriage and respecting their husbands.  You can view Mrs. Wagner's full testimony here: http://www.truewoman.com/?id=1191.
In addition, we had the immense benefit of hearing from Joni Erickson Tada.  Mrs. Tada is the Founder and CEO of Joni and Friends, a Christian organization that promotes ministry for the disability community.  She has been a quadriplegic since a diving accident in her teens.  In addition, she has struggle with chronic pain for the last several years and has recently been diagnosed with and undergoing treatment for breast cancer.  As a result, Mrs. Tada was not able to join us in person, but sent a message via video.
Mrs. Tada, full of humor and gentleness, used Hebrews 12:1-4 to encouraged us to look to Jesus in the midst of our trials; we have not yet resisted sin or struggles to the point of shedding our blood.  She said she remembers this truth when she feels like she is going to crack from constant suffering.
She also spurred us on to think about Ephesians 3:10, remembering that the way we respond to our pain declares something about God to the rulers and authorities in the heavenly places.  She remembers this truth, especially at night when she feels claustrophobic because of the inability to move, and is reminded that she has a cosmic responsibility to glorify God in the midst of hardship.
Mrs. Tada's deep joy in Christ is evident from the moment you see her. Her testimony was steeped in Scripture and full of hope in her future with Christ. Because of her love for her Savior, she has chosen to cling to and live out God's design for true womanhood in the midst of trials that threaten to eclipse His truth.  Yet, as C.S. Lewis said, her suffering is a megaphone declaring God's perfect love and sovereignty to thousands of women.
Mrs. Wagner and Mrs. Tada's testimonies were particularly powerful because they demonstrated to us that God's Spirit can transform our hearts and minds, we are able to obey Him in every season, and the good fight of the faith is worth it because Christ is our reward.  Praise the Lord for giving us such a faithful cloud of witnesses here on earth that helps us to press on to know and serve the Lord until we hear, "Well done, good and faithful servant."