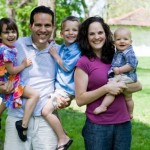 Daniel Montgomery serves as pastor of teaching, leadership and church planting at Sojourn Community Church in Louisville, KY.  Pastor Montgomery is the founding pastor of Sojourn where he describes his role in he words of Count Zinzendorf, "Preach the Gospel, die and be forgotten."
Sojourn began in September 2000 with approximately 60 people.  As a result of being intentionally gospel centered while engaging the culture of Louisville, Sunday morning attendance has grown to 1200 people. Sojourn is known for grafting itself into the unique and diverse culture of Louisville.  For the past several years the church has run an art gallery and music venue called "the 930" and recorded original worship music.  Sojourn is also the proud mother of a church plant in Louisville called "Crossing." You can visit Sojourn's website at www.sojournchurch.com.
Beyond the joys of ministry, Pastor Daniel also enjoys spending time doing outdoor activities with wife Mandy and his three children: Elijah, Stella, and Levi.  You may also catch him driving down the street with both windows down blaring Over the Rhine.
Pastor Montgomery earned a Bachelor's degree from Kennesaw State University, a Masters of Divinity from The Southern Baptist Theological Seminary and is currently pursuing a Doctor of Ministry from Reformed Theological Seminary.
We are excited to have Pastor Daniel as a guest for the B21@SBC event where we can engage him on issues such as the contextualization of local church ministries, unconventional church meeting venues and other issues that are important to you. Thank you Daniel for being a part of the upcoming B21 panel event–we at B21 and our readers look forward to hearing from you.