What: B21@SBC "b21 Panel" – A forum discussion about the present and future of the SBC. Each panel member will briefly address a key issue in SBC life, and this will be immediately followed by Question/Answer time. Topics will include: the benefits of cooperation, the great things the SBC is doing, changes the SBC needs, how we involve younger leaders, how we can move forward, and others.
When: June 23rd 11:45 am – 1:45 pm (during a break at this year's Southern Baptist Convention in Louisville). The time was changed due to the President's Address at 11:00 am. Lunch will be provided and paid for by Dr. Johnny Hunt. Each attender will receive a couple of books donated by the B21 Panel presenters.
Where: Sojourn Community Church, 930 Mary St. Louisville, KY 40204 (about 5 minutes from where the convention will be held)
Who: Ed Stetzer from Lifeway, Daniel Akin from SEBTS, and Daniel Montgomery of Sojourn, Dr. Albert Mohler from SBTS, Dr. Mark Dever of Capital Hill Baptist and 9 Marks, and Dr. David Platt of the Church at Brookhills. The Baptist 21 guys will be moderating the event.
Why: Many in the SBC see a great need for a directional change, but are also very excited about the things that the SBC does well. This event will celebrate what we are doing well and discuss possible areas of change.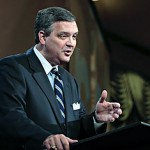 About this Promo video from Al Mohler: Dr. Mohler briefly touches on some of the subjects that will be covered at the panel forum.
Specifically he addresses:
1.    Why the Southern Baptist Convention is worth being a part of?
2.    Why he is a Southern Baptist?
3.    If he were King of the SBC for a day, what would he change?
4.    Why should one take time to come to the b21 Panel?