UPDATED INFORMATION
Directions to the B21 Panel: (from the Kentucky Exposition Center to Sojourn Community Church)
•1. STARTING AT The Kentucky Fair & Exposition Center 937 Phillips Ln, Louisville, KY 40209 – (502) 367-5000
•2.      Head northeast on Phillips Ln toward Freedom Way – About 1 min (0.6 mi)
•3.      Turn left at KY-61/Preston Hwy, Continue to follow KY-61 – About 4 mins (1.6 mi)
•4.      Continue on S Shelby St – About 2 mins (0.9 mi)
•5.      Turn right at Goss Ave/KY-864 (466 ft)
•6.      Turn left at KY-864/Logan St – About 1 min (0.2 mi)
•7.      Turn right at E Oak St (0.1 mi)
•8.      Turn left at Swan St (377 ft)
•9.      Turn left at Mary St – Destination will be on the left (394 ft)
•10. END AT 930 Mary St, Louisville, KY 40204
We will explore simplified directions (and will post them if we find them), but unless notified these directions are the best way to Sojourn.
Availability Left: Seating for this event is limited and the remaining available seats are being filled up quickly. Only the first 450 signed up will receive the books being made available.
Information about the Panel:
What: B21@SBC "b21 Panel" – A forum discussion about the present and future of the SBC. Each panel member will briefly address a key issue in SBC life, and this will be immediately followed by Question/Answer time. Topics will include: the benefits of cooperation, the great things the SBC is doing, changes the SBC needs, how we involve younger leaders, how we can move forward, and others.
When: June 23rd 11:45 am – 1:45 pm (during a break at this year's Southern Baptist Convention in Louisville). Lunch will be provided and paid for by Dr. Johnny Hunt. Each attendee will receive several books donated by the B21 Panel presenters.
Where: Sojourn Community Church, 930 Mary St. Louisville, KY 40204 (about 5 minutes from where the convention will be held)
Who: Daniel Akin from SEBTS, Mark Dever of Capital Hill Baptist and 9 Marks, Albert Mohler from SBTS, Daniel Montgomery of Sojourn, David Platt of the Church at Brookhills, Ed Stetzer from Lifeway, and the Baptist 21 guys.
Why: Many in the SBC see a great need for directional change, but are also very excited about the things that the SBC does well. This event will celebrate what we are doing well and discuss possible areas of change for greater SBC effectiveness in the 21st century.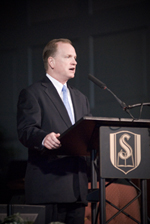 Danny Akin Promo Video for the b21 Panel:
In this video Dr. Akin discusses the SBC and the GCR,  the critical nature of the present time for the SBC, honoring the SBC past while forging forward, what being Baptist in the 21st century will look like, and the baptist21 panel. Check out this video and help us promote this event.