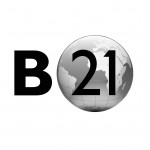 REGISTRATION IS NOW CLOSED, THERE MAY BE SEATS AND MEALS AVAILABLE AT THE DOOR.
UPDATE: Baptist21's panel discussion for this Friday during lunch time of the "God Exposed" conference is almost full, so sign up as soon as possible. The panel will feature Danny Akin, Thabiti Anyabwile, Mark Dever, J.D. Greear, and Mark Liederbach. The event will take place in the Multi-Purpose Room of the Ledford Student Center from 12:15 to 1:30. The cost is $5 per person. You can sign up here or buy a ticket at the check in on Friday morning. Seating is limited to 220 and tickets will be sold on a first-come, first-served basis. Please note: For those of you already signed up for the God Exposed Conference, this event is not included in your conference ticket price or conference registration process.
What Question Would You Like to Have Answered?
Baptist21 would like to hear from you… What question would you like to ask of these panelists? Please submit your questions by filling out the form below. We will select some of the questions to ask to the panelists.