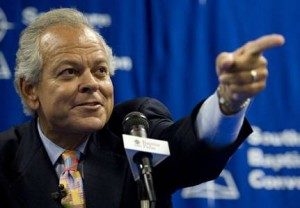 This year's Southern Baptist Convention caused great excitement for many Southern Baptists. While a few of the usual absurdities were present, the convention showcased greater theological depth, greater passion for missions, and greater unity in diversity. I'll offer eight highlights and some links to similar efforts.
1. The Great Commission Resurgence – Over the past several months, Pastor Johnny Hunt and Dr. Daniel Akin have led the charge for a Great Commission Resurgence amongst Southern Baptists. While their efforts have met some resistance from a number of SBC leaders, the messengers of the 2009 SBC overwhelmingly passed the Great Commission Task Force motion. Of course, this doesn't mean that everything is settled. In fact, there is quite a long way to go! Yet, Southern Baptists have come together to show their present desire to see greater faithfulness to the Great Commission.
2. 9 Marks at 9 – Southeastern Baptist Theological Seminary partnered with 9 Marks to provide substantive biblical and theological discussions about various issues. Showcasing brief addresses by Pastor Mark Dever and Dr. Akin, on respective nights, followed by lively panel discussions, the 9 Marks event provided the several hundred in attendance the type of discussion not typical, but much needed, for a Southern Baptist Convention.
3. B21 Panel – This luncheon sought to provide Southern Baptists with an opportunity to listen in on a conversation between some of the most important voices in the SBC about the most pressing issues facing the SBC. B21's Jon Akin ably moderated a panel consisting of convention employees (Dr. Albert Mohler, Dr. Daniel Akin, and Dr. Ed Stetzer) and Pastors (Mark Dever, David Platt, and Daniel Montgomery). The panel touched on everything from the state of preaching, to the GCR, to the significance of the ministries of our state conventions. B21 wasn't sure if the 450 people who signed up would be willing to make the tricky drive through Louisville's back roads, but over 600 people showed up! And the panelists' insights made it worth the extra effort.
4. The Resolution on Adoption and Orphan Care – The acceptance of Dr. Russell Moore's resolution by Southern Baptists points to a desire to be more faithful in caring for the fatherless. Reading better than many sermons, Dr. Moore's resolution skillfully ties this effort to its gospel roots. Although the SBC is not known for its racial diversity, if Southern Baptists follow Dr. Moore's leadership at this point, by God's grace, 60 years from now, we might be.
5. Pastor's Conference – There were a number of new faces preaching at the pastor's conference that many found quite enjoyable. JD Greear, David Platt, Ed Stetzer, Johnny Hunt, Francis Chan, and others, preached God's word faithfully and passionately, leaving their hearers with much to wrestle with in the following days. With the election of Pastor Kevin Ezell as the president of the Pastor's Conference next year, Southern Baptists will undoubtedly hear great preaching next year as well.
6. Dinner with David Dockery – A couple of us at B21 were invited to have dinner with Dr. David Dockery on Sunday evening, along with about 15 other young Southern Baptists. It was a fascinating time of conversation about the gospel, the SBC, Alabama football, and much more. Dr. Dockery fielded many questions, speaking with wisdom and clarity. This dinner is worth mentioning because it exemplifies one of many gracious efforts that seasoned Southern Baptist leaders are making all across the convention. While a few whine about a lack of seats at the table, leaders like Dr. Dockery quietly and faithfully offer many young men just that, literally.
7. Johnny Hunt – Pastor Hunt's leadership of the SBC and love for all of the various types of people that make it up is amazing. Whether preaching at the pastor's conference, passionately advocating the GCR, sharing a few words to young leaders, personally paying for the lunches of all of the B21 Panel attendees, or whatever, Hunt's a man worthy of great respect and admiration. Undoubtedly, the GCR resolution would not have passed if it were not for this faithful pastor's leadership.
8. Four More Key Leaders – We are very excited, and think you should be as well, about the leadership of Dr. Daniel Akin, Dr. Albert Mohler, Dr. Mark Dever, and Dr. David Platt. I know, I know, there are many other key leaders. Agreed. But these four men of God were at the forefront of a number of key happenings throughout this year's convention, steering Southern Baptists towards greater Gospel faithfulness. Dr. Akin's sights were set on bringing about a Great Commission Resurgence, whether addressing Southern Baptists in the convention hall, at the 9 Marks event, at the Founder's Breakfast, or at the B21 Panel. Dr. Mohler ably presented and defended the GCR motion, while also speaking candidly and powerfully at the B21 panel. Dr. Mark Dever, a voice Southern Baptists have long needed to hear, finally was given the opportunity to present his rich biblical views at the 9 Marks and B21 events. Dr. Platt preached several times, while also participating in both 9 Marks and B21 events. I wish this gifted preacher of God's word spoke several more times!
These eight highlights give me great encouragement. Of course, there's much to be done. Unless God's Spirit empowers Christ's church towards greater faithfulness to the gospel, nothing will come from this. Unless we're able to put the advancement of the kingdom of Christ amongst the nations above self-preservation, job-preservation…idol-preservation, this year's convention will be nothing more than a memory. And let's not kid ourselves, it is not going to be easy. But with God's help, fervent prayer, and honest conversations, amazing things may come about. Join with us as we pray, think, and talk about these things in the days ahead!
Here are a couple important views/arguments that we think you should interact with or be aware of starting now!
* Mark Dever asks a fascinating question about the possibility of  a shift in trust in the SBC
* Ed Stetzer gives his summary of the SBC
* Thom Rainer calls for a great commission resurgence for each one of us
* Alvin Reid recaps the SBC here
* Church planter Jay Hardwick talks both of his survival and enjoyment of the SBC
* Pastor Craig Thompson talks about why he's going to the SBC again next year
* Timmy Brister talks about his first SBC
Also, check out these stories about the convention:
* ABP's take on the SBC
* Louisville's Courier Journal's perspective
* The Baptist Standard in Texas writes there summary here