What is essential to a Great Commission Resurgence? This question faces the SBC and the vitality of its future. Dr. Mark Liederbach has an answer to that question that every SBC leader and Pastor needs to hear. His answer, Gospel-Centered Discipleship. In fact, he says, "Thus a Great Commission Resurgence that doesn't emphasize a resurgence in discipleship is no Great Commission Resurgence at all… I've been stunned by the lack of life on life discipleship that I have seen."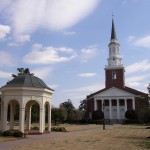 Liederbach, a man who grew up Roman Catholic, is an ethics professor at Southeastern Baptist Theological Seminary.  He received degrees from James Madison University, Denver Seminary, and a Ph.D from the University of Virginia. He is a student favorite on campus known for doing exactly what he is calling on from Southern Baptists, providing Gospel-Centered Discipleship.
To begin his sermon he asks a penetrating question, "Would your church be able to continue on and replace the staff and run effectively and efficiently (if all the leadership in the church died simultaneously)without having a search committee look outside the congregation, could you replace the leadership in your church because of the way you are training people in your church?"
Below is his sermon addressing these crucial issues entitled, "The Great Commission Resurgence and Gospel-Centered Discipleship." It is a must listen for all future disciple-makers.
Here are other resources from b21 with Mark Liederbach:
Interview about his book, "The Convergent Church" (part 1)
Interview on his book, "The Convergent Church" (part 2)
B21 Panel @ 9marks event – Liederbach joins Danny Akin, Thabiti Anyabwile, Mark Dever, and J.D. Greear.
Coming Soon: Baptist21 wants to hear our reader's thoughts on the GCR and the future the task force should plot for Southern Baptists. So early next week, we will be putting up the video from the GCR panel @ SBTS and a message board to encourage conversation about this important topic. We hope you will join in the conversation.