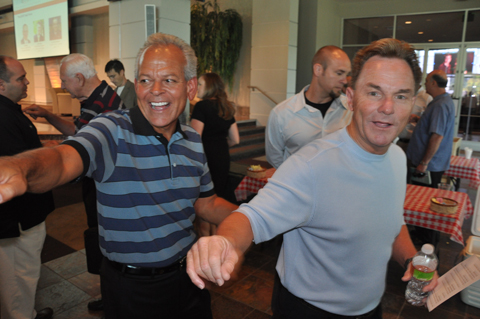 Baptist21 is grateful to have Pastor Johnny Hunt and Pastor Ronnie Floyd discussing the GCR at this year's B21 Panel at the SBC. The panel will be held on the Tuesday of the SBC in the W414 room (4th floor of the convention center) immediately following the morning session. There is a $7 charge (lunch and books are included).
Register soon because spots are filling up.
For more information about the event and video of David Platt discussing the event click here
Dr. Johnny Hunt
Johnny Hunt has served as the Senior Pastor of the First Baptist Church of Woodstock, Georgia since 1986. In addition to his role at Woodstock, he also served as President of the SBC Pastor's conference in 1996 and is currently completing the second year of his term as President of the Southern Baptist Convention. Dr. Hunt holds a Bachelor of Arts in Religion from Gardner-Webb College, a Master of Divinity degree from the Southeastern Baptist Theological Seminary as well as two honorary doctorates, one from lmmanuel Baptist Theological Seminary of Sharpsburg, Georgia, and another from Covington Theological Seminary. He is the author of Building Your Spiritual Resume: Developing A Testimony That Will Outlast You (3H Publishers, 2005), Building Your Leadership Resume: Developing The Legacy That Will Outlast You (B&H, 2009), and several others.
Even during the process of his education, Johnny's passion has always been for the pulpit. During his time at Gardner-Webb, he was not content merely to be a student, but was also called to serve as the shepherd of Lavonia Baptist Church in Mooresboro, North Carolina. When the Lord called Johnny to seminary, again, he was not content to just sit and learn, but had to go and do. So the Lord provided him with a second pastorate at Falls Baptist Church in Wake Forest, North Carolina. Under his leadership, Falls Baptist Church led the state of North Carolina in Sunday School growth in 1980. Similarly, after Seminary when Johnny was called as pastor of Longleaf Baptist Church in Wilmington, North Carolina, Longleaf led the state of North Carolina in Baptisms in 1983, 1984, and 1985.
His intense devotion and fervor for the ministry led to Johnny being named "Ministerial Student of the Year" at Gardner-Webb in 1979 as well as the Chair of Church Growth at SEBTS being named in his honor on March 11, 1997. After serving and excelling at various churches throughout North and South Carolina during his college and seminary training, Johnny was called as pastor of FBC Woodstock, Georgia in December of 1986. The following year, Dr. Hunt baptized 318 people and admitted 268 people by letter to membership at FBC. During his tenure, the church has grown from an average of 275 in Sunday School to over 5800 today. They currently average over 7000 in weekly worship attendance.
Johnny Hunt is truly a pastor's pastor. He has been married to Janet for 38 years; they have two daughters Deanna and Hollie and four grandchildren. Throughout his decades in ministry, he has served as a model of ministry zeal and evangelistic fervor. For this reason, there are few people more qualified to lead in the initiation of a Great Commission Resurgence in the Southern Baptist Convention. In 2009, during the annual convention in Louisville, KY, Dr. Hunt was empowered by the convention floor to appoint a Task Force for the investigation of and recommendation toward a streamlining of the entities and organizations of the convention toward greater Kingdom effectiveness in the 21st century and beyond. We at Baptist21 are extremely grateful for Dr. Hunt's leadership and greatly look forward to seeing his vision for a GCR materialized in Orlando on June 15-16. We could not be more excited to have Dr. Hunt joining us to bring his leadership wisdom and pastoral zeal to the B21 panel event this year. The impact Pastor Johnny has had on Baptist 21 cannot be calculated. We are eternally grateful for him.
Dr. Ronnie Floyd
Ronnie Floyd has served as a pastor for over 33 years and currently serves as the Senior Pastor of the First Baptist Church of Springdale, Arkansas, a position he has held since 1986. In addition to his service at Springdale, Ronnie has served as President of the SBC Pastor's Conference in 1997, as chairman of the trustees of the Executive Committee from June 1995-June 1997 (serving on this board from 1988-1998), as well as this past year as Chairman of the SBC's Great Commission Resurgence Task Force, appointed to this post in June 2009 by Dr. Johnny Hunt.
Dr. Floyd holds a Bachelor of Science degree from Howard Payne University as well as Master of Divinity and Doctor of Ministry degrees from the Southwestern Baptist Theological Seminary. Additionally, Dr. Floyd was awarded an honorary Doctorate in Sacred Theology from Southwest Baptist University in 1990 and the Distinguished Alumni Award from the Southwestern Baptist Theological Seminary in 2004. He is the author of 19 books, including his most recent The Power of Prayer and Fasting: Revised & Expanded (B&H, 2010).
From his post in Northwest Arkansas, Ronnie has been able to develop a platform for impacting tens of thousands through his weekly preaching and teaching ministry at FBC, through his service in various denominational capacities on both state and national levels, through his widely sought after public speaking ministry, and through his hosting of a weekly luncheon called "The Summit" which impacts and equips anywhere from 400-700 business-persons per week. He also publishes a weblog at www.betweensundays.com that serves as a challenge and encouragement to both pastors and laypeople alike.
During his 23 years at FBC Springdale, the church has experienced unprecedented growth. In that time the church has expanded from 3,700 to over 19,000 members, baptized over 15,000 people, and even started an additional campus in August of 2001 called the Church at Pinnacle Hills which is currently one of the fastest growing congregations in the state of Arkansas. Currently, the ministry of FBC Springdale consists of one church in many locations, with 12 sites, two campuses, and 15 church plants being invested in and launched globally. In the fall First Baptist will begin a campus near the University of Arkansas in Fayetteville.
As stated on his website, however, Ronnie's most prized accomplishments stem from his personal life. He has been married to Jeana since 1976, they have two sons, Josh (wife: Kate) and Nick (wife: Meredith) both of whom are involved in full-time Christian service, as well as four grandchildren. Our convention has been extraordinarily blessed to have the leadership of Dr. Floyd over this past year as Chairman of the GCR Task Force, and we (Baptist21) have been personally blessed to have him help support and participate in a number of our B21 events already. We are greatly looking forward to having him as part of our B21 panel event in Orlando on June 15, and even moreso to seeing the fruit of his Task Force labors advanced by our convention on June 15-16.