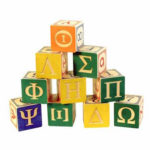 Check out two entertaining resources on the alphabets in the Biblical Languages.
Southeastern Baptist Theological Seminary student Michael Graening performed a Hip-Hop song to Kanye West's "Heartless" working through the Greek Alphabet. You can find the MP3 through Justin Taylor's blog.
In addition, Dave Kulp and Matt Howell wrote a Hebrew alphabet Hip Hop song when they were students at RTS-Charlotte. The song was sung and produced by Matt Howel. The MP3 is also available at Justin Taylor's  blog.