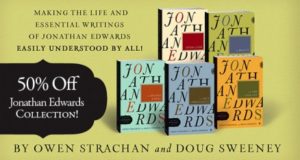 Owen Strachan and Doug Sweeney wrote and assembled the Essential Edwards Collection (Moody, 2010). These are excellent works that make Edwards' writing accessible to a wide audience. Many believe that Jonathan Edwards is the greatest theologian America has produced. Strachan and Sweeney have given the church a great gift by making his theology and writings available to us in this way.
Baptist21 wants to let you know that RIGHT NOW they are available at Westminster Books, all five volumes, for HALF OFF! This opportunity is available for a limited time (Tuesday July 27th-Monday August 2nd).
For more info on this you can check out Owen's Blog.