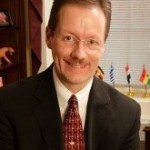 Over the last two weeks, Dr. Chuck Lawless, Dean of the Billy Graham School of Missions and Evangelism at the Southern Baptist Theological Seminary, has been tweeting ideas for Southern Baptists to get involved in giving to the Lottie Moon Christmas Offering this year. We hope this list will help you, your family, and your church find a way to give more than ever to Lottie Moon this year! We invite you to check out Dr. Lawless's blog Chucklawless.com and follow him on Twitter.
LOTTIE MOON IDEAS
Idea #1: Give to God's mission the equivalent of $$ spent for Christmas presents. Spend on what matters.
Idea #2: Give 25¢, 50¢, 75¢, or $1.00 per unreached people group (@ 6000 groups). Billions need to hear.
Idea #3: Give the amount needed to cover one week's costs to send a missionary — @ $845.00. They sacrifice much for the GC.
Idea #4: Give LM Christmas gifts in honor of someone you love. Most of us need little else; the world needs the gospel.
Idea #5: Give $25, $50, $100 for every year you've been a Christian. You'll still never match what God gave for us.
Idea #6: Let the Word motivate you to give. We really have no other option. (Listen to Thanksgiving Without Giving Is Only A Word from 11/21/2010)
Idea #7: Give in honor of the one who shared Christ with you. Give because you have been one of the privileged ones to hear.
Idea #8: Remember your largest gift given to ANY need — then add 10% to that amount. Give more to LM than ever.
Idea #9: Give 10% of your church's LMCO goal. If 9 others join you, you've met the goal. If more than 9 join you, PTL!!
Idea #10: Give 1 penny 4 every new believer baptized thru IMB work last year (@500,000). The return will be worth it.