The 20/20 Collegiate Conference is fast approaching and we would like to invite you to be a part of this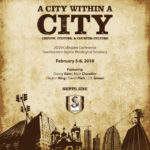 exciting conference at Southeastern Seminary. The theme for the 2010 20/20 Conference is A City Within A City: Church, Culture & Counter-Culture. We hope you would consider making the trip to Wake Forest for this important conference. You can register for this conference by clicking here. You will find all the information below.
Date: February 5-6, 2010 on the campus of Southeastern Baptist Theological Seminary
Topic: A City Within A City: Church, Culture & Counter-Culture. God's church always finds herself in the midst of a broader human culture. Though the church is a part of that culture, she also bears witness to a Reality greater than the culture. For this reason, we as believers have the great privilege and responsibility of finding ways—in our colleges, workplaces, neighborhoods, and communities—to display the truth, goodness, and beauty of God and his gospel. Come and join us as we explore ways of bearing witness to God and his gospel in the midst of a skeptical, morally confused culture.
Plenary Session Speakers:
Daniel Akin is president of Southeastern and a respected theologian, preacher and evangelical leader. He and his wife Charlotte have four sons, three daughters-in-law, and four grandchildren. He is the author of God on Sex, Five Who Changed the World, and several biblical commentaries as well as editor of A Theology for the Church. His teaching resources may be found at danielakin.com.
Matt Chandler serves as Lead Pastor of The Village Church in Highland Village, TX. He describes his six-year tenure at The Village as a re-planting effort where he was involved in changing the theological and philosophical culture of the congregation. The church has witnessed a tremendous response growing from 160 people to over 6,000 including satellite campuses in Dallas and Denton. Alongside his current role as lead pastor, Matt is involved in church planting efforts both locally and internationally through The Village and various strategic partnerships. His greatest joy outside of Jesus is being married to Lauren and being a dad to their three children, Audrey, Reid and Norah.
J.D. Greear is pastor of the Summitt Church in Durham, N.C. Before coming to work at the Summit he had worked among Muslims in Southeast Asia. He earned both his MDiv and PhD from Southeastern. He has authored a number of publications, including the forthcoming Breaking the Islamic Code. He is committed to the local church and to church planting. He and his wife Veronica have three kids, Kharis, Alethia and Ryah.
Clayton King speaks to over 200,000 people annually on college campuses for FCA, InterVarsity, BSU, and Campus Crusade for Christ. He also speaks at numerous national youth conferences, camps, and retreats, as well as dozens of youth rallies and churches of different denominations. He speaks on various topics depending on his audience, including marriage, missions, music, dating, motivational talks for non-religious events, and discipleship. But above all, he is called to preach the gospel and call people to salvation in Christ. He and his wife Charie have two sons.
David Platt serves as the pastor of The Church at Brook Hills in Birmingham, Alabama. His passion in ministry – disciple-making – leads him to model the teaching of God's word, mentoring others and sharing his faith. He has traveled extensively to teach the Bible and church leaders throughout the United States and around the world. Platt is married to Heather, his bride of seven years, and they have two sons.
Break Out Sessions: The Conference will also include break out sessions with a variety of other speakers, including many of the SEBTS Faculty
Schedule:
Friday, February 5
3:30 PM Registration Open – Ledford Center
7:00 PM Welcome/ Praise and Worship
7:30 PM Plenary Session I (Daniel Akin)
8:30-8:45 PM Worship (Quick Restroom Break)
8:45-9:45 PM Plenary Session II (Matt Chandler)
10:00 PM Closing Song & Remarks
Saturday, February 6
8:00 AM Continental Breakfast – Ledford Center (Gym)
8:30-8:45 AM Morning Worship
8:45 AM Plenary Session III (Clayton King)
10:00 AM Breakout Session I
11:15 AM Breakout Session II
12:15 PM Group Lunch – Ledford Center (Gym)
1:15 PM Afternoon Worship
1:30 PM Plenary Session IV (David Platt)
2:45 PM Breakout Session III
3:55 PM Worship
4:00 PM Plenary Session V (JD Greear)
5:15 PM Closing Song & Remarks
You will not want to miss this opportunity – Check out a Past 20/20 Collegiate Conference