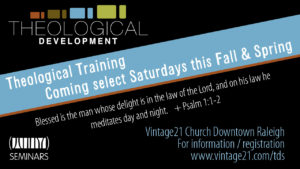 Baptist21 would like to make our readers aware of 2 upcoming events hosted by Vintage21 and Advance the Church. First, they will host Theological Development Seminars that will take place at Vintage21 during the Fall and Spring. This will be a series of Saturday seminars taught by Bruce Ware, Gregg Allison, and many more. These Seminars are open to everyone.
The first class is this Saturday, September 25th and will be taught by Dr. Bruce Ware. Dr. Gregg Allison will teach the next Seminar on Saturday, October 23rd. Classes begin Saturday mornings at 9am and end around 4pm.
Location: 117 S. West St, Raleigh, NC 27601.
The best part is that these seminars are free and snacks will be provided – You can register by emailing Tanner Griffith at tds@vintage21.com
In addition, Advance the Church will be holding an October Regional entitled:
"Multiply: Becoming a Church Planting Church"
From the Advance the Church Website: We all understand that every living thing multiplies; it's part of the definition of life. But, it's also at the core of the mission of the church– Jesus didn't just call the church to grow. He called it to multiply. One of the struggles our generation is facing is that so few churches do multiply, and many churches don't know how to begin multiplying. Obviously, as the gospel must advance, this is a problem we're responsible to explore and work to resolve. Join us October 8, 2010 as Darrin Patrick, Chris Atwell, and Tyler Jones examine the need for churches to multiply and what it takes to become a church planting church.
Schedule for the Event:
Date – October 8, 2010
11:00 AM – Registration Opens
12:00 PM – Lunch ($10)
1:00 PM – Worship
1:30 PM – Becoming a Multiplying Church | Tyler Jones
2:30 PM – Men Who Multiply | Chris Atwell
3:30 PM – Training Men to Multiply | Darrin Patrick
Location: Vintage21 Church Raleigh West Campus | 117 S West St | Raleigh, NC | 27603
About the Speakers
Darrin Patrick – Darrin serves as lead pastor of The Journey in Saint Louis, MO, which he founded in 2002. Darrin also serves as Vice President of the Acts 29 Church Planting Network and is a regular contributor at The Resurgence. His passion is to help the church understand and live the gospel in the world. Today, The Journey runs eight services across four campuses and continues to aggressively plant new campuses and churches in the Saint Louis region and beyond. He recently finished two books: Church Planter: the man, the message and the mission and A Church for the City with Matt Carter.
Chris Atwell – Portico Church | Charlottesville, VA
With the vision of an entrepreneur and a desire to see lives changed by the power of the gospel, Chris is a natural church planter. He joined the Acts 29 Network in 2004, moving to Virginia to plant a church in his hometown. Striving to see lives transformed within his community and beyond, Chris continually seeks out new and innovative ways to spread the Gospel. Chris has a passion for racial reconciliation, believing in the power of Christ to bridge cultural and racial divides. As a coach to rising church planters within the network, Chris is adept at advising churches in a variety of challenges they face, including developing growth strategies, securing financial support, caring for congregants and staff, among others. In addition, Chris regularly speaks for organizations and campus ministries.
Tyler Jones – Vintage21 Church | Raleigh, NC
Tyler and his wife Kimberly moved to the Raleigh area in 1997 after graduating from the University of North Carolina at Chapel Hill. He worked with InterVarsity Christian Fellowship at North Carolina State five years before starting Vintage21. After much prayer and guidance, they felt God's call to begin a church in downtown Raleigh. Vintage21 began in the Fall of 2002 with a small group of people, and currently has over 1200 people every Sunday. He holds the position of Southeast Regional Director for the Acts29 church planting network. Tyler also is the founder of Advance the Church, a cooperative nondenominational movement to assist in the planting and revitalization of local churches.