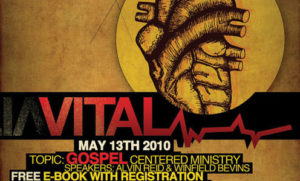 Baptist21 is excited about the "Vital" Conference to be held in Greenville, NC on May 13. PlantNC is hosting the event.  Baptist21 will be at this event and B21 Contributor Nathan Akin will take part in the panel discussion at the conclusion of the event. Take some time to learn more about this church planting network that could in many ways be a model for church planting in the SBC in the future and make every effort to attend the "Vital" conference.
What is PlantNC (From PlantNC Website): PLANT NC is a network of likeminded churches, pastors, and church planters who are working together to advance the gospel across North Carolina and beyond by planting new churches and helping to strengthen existing churches for the purpose of multiplication. Our vision is to partner with established and new churches to plant 30 churches in the next three years. We seek to provide peer-learning communities, church planting internships, coaching, support, regional network opportunities, and resources to pastors and church planters from across North Carolina and around the United States.
This network was formed out of Acts 29 Church Planter Winfield Bevins' Church, Church of the Outer Banks and is led by Will Plitt. To find out more about this network click here.
What is the "Vital" Conference: The gospel is not an addition to our ministry or even a beginning point; rather, the gospel must saturate every part of our church's life.  This conference is a clear call to bring the gospel back to every aspect of church ministry. Each session will be followed by a time for participants to ask questions and dialogue. Free book for everyone who registers online.
Where is the "Vital" Conference: Greenville Convention Center, Greenville, NC
When is the "Vital" Conference: May 13 from 1-5pm
Who is Speaking at the "Vital" Conference:
–       Winfield Bevins: is the founding pastor of Church of the Outer Banks, an Acts 29 church plant on the coast of North Carolina. He has authored several publications and is currently finishing a doctorate at Southeastern Baptist Theological Seminary in Wake Forest, NC. He is passionate about church planting and is involved with coaching and training new church planters. He and his wife have two children and live in the Outer Banks.
–       Alvin Reid: is professor of evangelism and student ministry at Southeastern Baptist Theological Seminary, where he occupies the Bailey Smith Chair of Evangelism.  Alvin is the author of numerous books, including Radically Unchurched, Raising the Bar, Join the Movement, and Evangelism Handbook. He is also co-author, with Southeastern ethicist Mark Liederbach, of the recently published The Convergent Church: Missional Worshipers in an Emerging Culture. He is a popular conference speaker and evangelist, and he plays a mean bass guitar. Alvin is married to Michelle and is the father of two children. The Reids are members of Richland Creek Community Church in Wake Forest, North Carolina. (from Between the Times)
Panel Discussion will include: Alvin Reid, Winfield Bevins, Nathan Akin, and Will Plitt
How Much is the "Vital" Conference: It's Free, but Register and receive a free book at the conference
Schedule for the "Vital" Conference:
12-1pm: Registration
1pm: Welcome
1-1:30pm: Worship
1:30-2:30pm: Session 1 Gospel Centered Movements
2:30pm: Break
2:45-3:30pm: Session 2 Gospel Centered Discipleship
3:30pm: Break
3:45-4:30pm: Session 3 Future of Church Planting in North Carolina (Round table discussion)