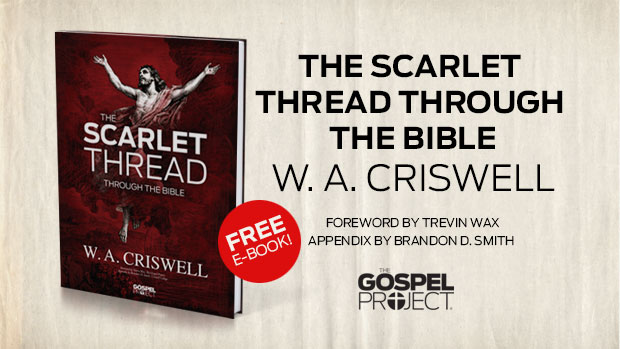 Baptist21 would like to commend a free E-Book to you from W.A. Criswell (Click Here). Baptist21 is thankful for men like W.A. Criswell (check out his website with sermons from every book of the bible)  that have gone before us and taught us to love the Scriptures and the one to whom the scriptures point. W.A. Criswell is a giant in Southern Baptist life who pastored the FBC of Dallas for 50 years. During his time as pastor there, Dr. Criswell preached expositionally straight through the bible over a 20-year period. On one New Year's Eve he delivered a message entitled "The Scarlett Thread of Redemption" which has now been turned into an E-Book by The Gospel Project (Visit the Gospel Project Site). We hope that you will check out Criswell's newest book and spread the word about it.
From the Gospel Project: There is a scarlet thread that runs throughout the Bible and it is the binding that holds the pages of the Scripture together. That great scarlet thread is redemption through Jesus Christ. In this book, Criswell traces the scarlet thread of redemption from the blood of covering after the fall in the Garden of Eden to the blood-washed multitude standing before the throne of God in eternity. The content of this eBook was originally delivered as a sermon by W. A. Criswell at First Baptist Church, Dallas, Texas. In his introductory remarks Dr. Criswell said:
"The sermon is as if a man stood on the top of a great height and looked over the whole creation of God. As Moses stood on the top of Mount Pisgah and saw from afar the Promised Land, so this message tonight. We are standing as it were on a great and lofty eminence. And we are looking over the entire story of human history from its beginning in the eternity of the eternities, in the unknown distant ages of the ageless past, and as it reaches forward to the great incomparable consummation of the ages that are yet to come."  
ENDORSEMENTS
What a joy it is to see The Scarlet Thread being made available once again for a new generation!  W. A. Criswell's classic work beautifully portrays the picture of Christ's redemptive work throughout the canon of Holy Scripture.  Readers will be informed, instructed, strengthened and helped in their faith journey.  More importantly, they will be moved to a life characterized by worship, praise, and gratitude to our great God.
David S. Dockery
President, Union University Jackson, Tennessee
The Scarlet Thread is a classic treatment of the grand story of redemption. Tracing the theme of salvation from Genesis to Revelation, W.A. Criswell tells the old, old story as only he could as a prince of preachers.
Daniel L. Akin
President, Southeastern Baptist Theological
Seminary Wake Forest, North Carolina