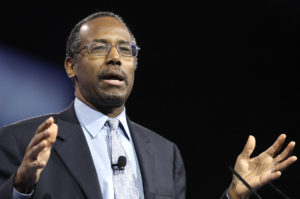 Update: The leadership of the SBC Pastors' Conference and Dr. Ben Carson's team have come to a mutual decision that he withdraw from speaking at the Conference. Here is a link to Willy Rice's statement. We have recognized all along that this decision is Pastor Rice's alone to make, and we can't imagine how difficult the decision has been. We are thankful for his humble and courageous leadership, and we wholeheartedly join in his call for unity.
Update: It appears Dr. Ben Carson's FB message referenced in this post has been taken down – here is an image of the original post 
Dr. Ben Carson, who is considering a run for President in 2016, has been invited to speak and close the Sunday night session at the SBC Pastors' Conference in Columbus. We have deep respect for both Dr. Carson and the Pastors' Conference leadership, and yet his invitation to speak at a conference for SBC pastors does cause us some concerns, as it has concerned other SBC pastors as well.
We raise our concerns here:
We have theological concerns:
Dr. Carson is a Seventh-Day Adventist. Their official theology denies the doctrine of Hell in favor of annihilation, denies the doctrine of Sola Scriptura, and believes that those who worship on Sunday will bear the "mark of the beast."
Also, on Easter, Dr. Carson wrote on his Facebook wall, "Let us also remember that Jews, Christians and Muslims all believe in God, and while there are ideological differences in who Jesus was, we should find peace in the fact that we are all God's children." Certainly, we do not all worship the same God – we worship the Trinity whom Muslims and Jews would deny. And, the idea that we are all God's children is at best the type of liberalism the Conservative Resurgence sought to address, and at worst, it is universalism.
The Pastors' Conference issued a statement saying that Dr. Carson will not speak as a pastor or theologian, but rather as a "courageous voice" calling for spiritual renewal in our country. We understand that there is precedent for voices outside the SBC to address the Pastors' Conference, and we do not believe that all the speakers at the conference should be Southern Baptists. However, why not invite another courageous voice whose doctrines would more closely align theologically with Southern Baptists, and who would equip us to live courageously in the midst of our culture where religious freedom is eroding?
We have missiological concerns:
There continue to be perceptions in our culture that the SBC is in bed with the Republican Party, and actions such as having Dr. Carson speak at the SBC Pastor's Conference only prove that perception correct. These perceptions continue to hamper our witness in an increasingly purple America, where missional efforts are often misunderstood as Southern Baptists asking people to become more politically conservative. While the convention hall room will be full of red politically, many of our congregations back home are increasingly politically diverse, and these one-sided affiliations can be difficult to explain, considering many already believe that Southern Baptists view God as a Republican. In fact, we have more in common with a born again Christian who is a registered Democrat, than we do with a universalist Seventh-Day Adventist who is a conservative. Perhaps Southern Baptists need to be reminded of what unites us together.
We have generational concerns
Many have lamented the lack of participation in SBC meetings by younger leaders (though trends have started to move in a positive direction, and we think that's because of a more gospel-centered focus), and we are concerned that these kinds of speaker invitations will only hinder younger involvement. The reason is that a younger generation is often prone to avoid anything that seemingly weds the church with a specific political party, and portrays a "God and country" narrative that is not the gospel. A generation will be missing if our meetings feel like political rallies for the GOP.
We are concerned because in our evangelical climate it is often easy to confuse what it means to be a follower of Christ with what it means to be a patriotic American. So much of Bible-belt Christianity has equated, whether consciously or unconsciously, being a Christian with being a conservative, patriotic Republican. The narrative many of us were raised with was that the path to changing America or maintaining good values in our country was simply electing the right people and passing the right laws, but legislation will not transform a nation. The Old Testament narrative bears witness to this reality because Ancient Israel had all of the right laws but it never brought transformation. The issue is not the law; the issue is that hearts must be changed before a nation repents, and that only happens through the Gospel of Jesus Christ. We believe Southern Baptists must be engaged politically, but that the focus should be shaped by Scriptural convictions before generic American values.
Our desire in raising these concerns is to start a conversation regarding the purpose of our annual gathering, and why our affiliations matter, as we advance the Great Commission in America. Our suggestion is that we believe it would be prudent for future SBC leaders to stop inviting politicians to our meetings. Period. We are all actively involved in the political process, and we pray for and submit to our elected officials, but we need to keep a prophetic voice with both parties. Inviting affiliated politicians to our religious gatherings cannot help but mute our voice in this culture.   Pressing issues like this will be discussed at the Baptist21 panel in Columbus. Make sure you don't miss out on the conversation. Sign-up here today.       ***Note: Out of our love and respect for Willy Rice, who is the president of the conference, we offered him an opportunity to respond to this blog before we posted it. He has kindly and graciously declined to respond.