B21 is happy to announce a new addition to our stellar lineup of panelists for our lunch panel at the SBC in Columbus: Dr. H.B. Charles Jr.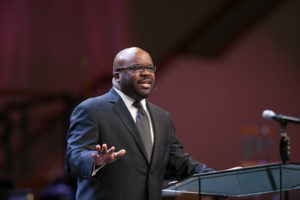 H.B. Charles, Jr. serves as the Senior-Pastor of the Shiloh Metropolitan Baptist Church in Jacksonville, Florida.
A third-generation pastor, H.B. made his profession of saving-faith in the Christ as Savior and Lord and was baptized at the age of six.
Having faithfully served Mt. Sinai Missionary Baptist Church of Los Angeles for eighteen years, the Lord changed H.B.'s pastoral assignment and sent him to the other end of the country. During the summer of 2008, the Shiloh Metropolitan Baptist Church of Jacksonville unanimously called H.B to serve as its new pastor-teacher.
H.B.'s preaching has been published in the 2008 edition of The African American Pulpit, a scholarly journal that features African American preachers, and he and has published three books:  It Happens After Prayer, On Preaching and The Difference Jesus Makes. 
H.B. is currently enrolled at the Gordon-Conwell Theological Seminary (Jacksonville), where he continues his formal education. He is also a regular guest speaker at various revivals, conferences, and conventions around the country and beyond.
H.B. is married to his best friend – the former Crystal R. Moreland. They are the proud parents of three children: H.B. Charles, III, Natalie Marie Charles, and Hailey Breanne Charles.
With panelists like H.B. Charles, David Platt, Al Mohler, Russell Moore, and Danny Akin, you don't want to miss out. Lunch, free books, and needed conversation on difficult issues. Register here.