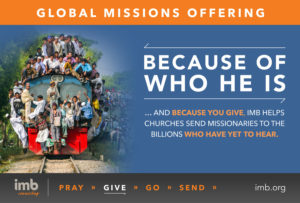 Every week Southern Baptists cooperate together to give financially to the ministries of the Southern Baptist Convention through the Cooperative Program. Some churches give a few hundred dollars, while other churches commit more than 10% of their weekly financial gifts to the Cooperative Program. Much of the money given goes to help our state conventions, support our six seminaries, and plant churches across the U.S. However, a great percentage of Cooperative Program dollars goes to the International Mission Board (IMB) for Southern Baptist work all over the world.
The Cooperative Program supports the IMB throughout the year, so that every Southern Baptist church has the opportunity to say, "Every week, we are impacting the nations." However, week-to-week giving does not supply enough money for our IMB missionaries to continue to do their work overseas. In fact, due to a lack of funding our IMB leadership has had to make the difficult decision to bring hundreds of our missionaries home. All the while, more than half of the world's population still has never heard the gospel of God's grace toward sinners.
This Christmas season your church has the opportunity to give a special offering to the IMB that will go directly to Southern Baptist work overseas. Through the Lottie Moon Christmas Offering (LMCO), Southern Baptist churches give millions of dollars annually for the cause of Christ among the nations. In the last two years, Southern Baptists have given record-setting amounts to the annual LMCO but we still need more money to keep our missionaries from having to come home. In addition, we need more missionaries to go to the field, because as it stands there are still over 3,000 unengaged unreached people groups (no known Christians, and no churches currently working to get the gospel to them).
This Christmas, will you consider leading your church to set your LMCO goal higher? At our church, we have added 50% to the most we have ever given and made that our goal. Some churches have already committed to doubling their LMCO this year, but with over 40,000 Southern Baptist churches we need each one to get involved.
How can you impact the nations this Christmas? You can pray for the nations. You can pray for our IMB missionaries. You can ask the Lord to give your church guidance in what it looks like to be more involved in international missions. And you can give. More than buying sweets that affect our waistlines and toys our children do not need, this Christmas the nations need the gospel. Will you give so that others may know the good news?
-Peyton Hill is the Lead Pastor at Highland Baptist Church in Grove City, OH.