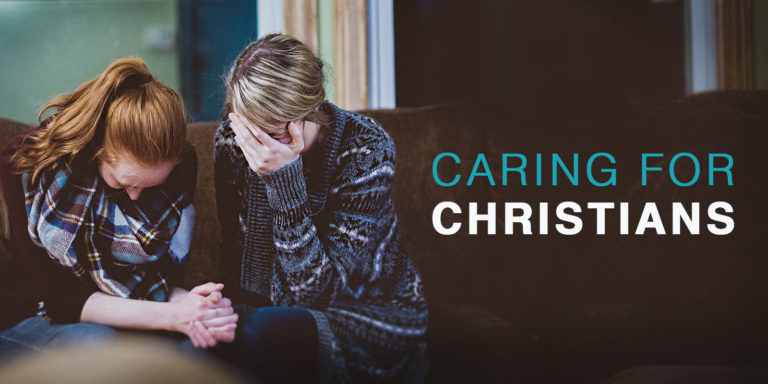 From time to time, we hear wonderful compliments ascribed to the people around us. Sometimes the compliment is about the person's appearance. Sometimes about his generosity or her gentle spirit. Perhaps above them all, my attention is captured when I hear a person described as a true shepherd. "He really knows how to care for other people." "She is in tune with people around her and knows exactly when and how to help." "He seems always to know what to say and how to say it."
These are some of the sweetest compliments I can imagine. And it is likely that we all know someone who carries these characteristics honestly. They are often our closest friends, our most faithful fellow Christians, our more adored companions in the faith. And we adore them because they care. Yet for many of us, we look into the mirror of these examples and find ourselves lacking, but with a desire to grow in our ability to care for one another. But where to start? In order to grow in this way, it is helpful to begin with a foundational picture of what makes a Christian capable of caring for others. Scripture is replete with wisdom for building a foundation of faithful Christian care. Let's begin with Psalm 78:70-72 as we consider the example of David, who shepherded Israel in the Old Testament.
"He also chose David his servant and took him from the sheepfolds; From the care of the ewes with suckling lambs He brought him to shepherd Jacob His people, and Israel His inheritance. So he shepherded them according to the integrity of his heart. And guided them with his skillful hands."
A Heart for Helping
First we may notice David's heart of integrity. An ability to care for our fellow Christians begins with a heart for shepherding one another. There is simply no amount of Bible knowledge or life experience that can outweigh the value of developing a heart sincerely devoted to caring for others in the church. Without it we will fail to see the opportunities even though they are just before our faces, we will fail to discern the need of the moment even though it is displayed for us in Technicolor. It cannot be overstated. If our hearts are not routinely refreshed and made alert by the gospel – which reveals to us the perfect care of God for us – we will not go out of our way to care for others. We will not sacrifice our personal time to comfort our Christian friends. We will not stoop down to suffering along with our closest neighbors. In fact, without this heart of integrity at work and growing in us by grace, we will likely not even see the need of the moment. Instead, we will continue on with our lives, aloof to the people it is our privilege to pursue.
So, how do we get this heart of integrity for the exercise of caring for others in the church? It can only be gained from God Himself. When He brings a sinner to repentance and faith, renewing and remaking his heart, the new Christian has a new heart with which to love others God's way. With eyes open, seeing the beauty of the gospel, he is able to respond not only to God in faith and love, but he is also able to respond to fellow Christians. He is able to walk with them and know them truly. Yet at the same time, the new Christian also begins a lifetime of growing in grace (sanctification). His new heart must grow and change still as he matures in the faith. This growth brings with it an added love and wisdom for loving well his fellow Christians.
Skillful Hands
Psalm 78 also draws our attention to David's skillful hands. David was not only given a heart for his people. He was given a growing skill to care for them as well. As with a growing heart for helping, skillful hands are developed over time. It is not simply enough to exercise a heart of compassion for Christians, but it is also necessary to grow in certain skills. As we consider the lives of godly men and women in Scripture, as well as godly shepherds at work in our real lives today, we may notice a variety of skills made useful to the Christian who helps shepherd his fellow sheep.
Some helpful skills which can be learned from the pages of Scripture are:

Speaking truth in love
Managing time to prioritize others
Knowing the need of the moment
Becoming slow to speak and quick to listen
Listening and thinking about a matter before giving an answer.
Do you want to be a useful tool in the lives of other Christians? Skillful hands and a softened heart are the best places to start.
---
Written by Rush Witt
Rush is a husband, father, church planter, chaplain and author. He helps pastor Paramount Church in Columbus, Ohio along with 2 other elders. His latest book, Diehard Sins came out in 2018 and he has another book releasing later this year. Rush holds 2 degrees from Southeastern Baptist Theological Seminary.
*Article originally published via the Pillar Network in 2015.