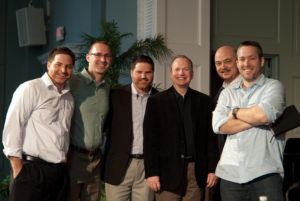 Baptist21 was privileged to host a GCR Panel discussion with members of the GCR Task Force at Southeastern Baptist Theological Seminary. The panelists included Danny Akin, Al Gilbert, J.D. Greear, Ronnie Floyd (Via Skype), and Albert Mohler and Johnny Hunt (via video recording). The panelists were clear and direct in answering tough questions that have been raised since the release of the report.
Future B21 Events: B21 would also like to make everyone aware of a panel discussion that we will host at this year's SBC in Orlando. For more information and registration. Register today and tell others about it.

In addition, B21 will host "Men on Mission" in Missouri May 10 with Darrin Patrick, Alvin Reid, Bruce Ashford, and Kenny Qualls. Click here for more information and here for Registration.
Special Thanks: Baptist21 wants to extend a special thanks to the Media Services department at Southeastern Baptist Theological Seminary. Mike Hawley, the Director of Media Services, along with Jon Rice and Ryan Phillips worked very hard to make sure this chapel service went well. We asked a lot of them to weave in skype and video answers and this chapel would not have gone smoothly without their help. Baptist21 is indebted to them.