---
8 billion people in need.
13 Southern Baptist organizations.
1 morning of your time.
---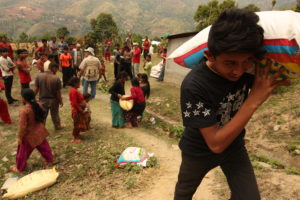 At the Global Hunger Relief Run, you can join with 13 SBC organizations the morning of June 13 to combat a life-threatening crisis affecting nearly 8 billion people around the world:  hunger. Across every nation, and even every county in America, people are plagued by malnutrition and forced to make difficult choices between buying food and providing other basic needs for their family.  
As a part of the annual meeting of the Southern Baptist Convention, the Global Hunger Relief Run 2018, including a 5k and Fun Run, will take place at Trinity Skyline Trail in Dallas, Texas. One hundred percent of your registration fee will go directly to feeding hungry people around the world through Global Hunger Relief.
Global Hunger Relief is an initiative of Southern Baptists that creates a way for churches and individuals to put more dollars into the hands of missionaries and ministry partners who are feeding the hungry around the world.
More than just meeting hunger needs, GHR-supported projects are used strategically to advance the gospel, supporting the evangelistic and compassionate ministries where our Southern Baptist partners are serving. Because of the Cooperative Program, every penny of money given to GHR goes directly to feed hungry people.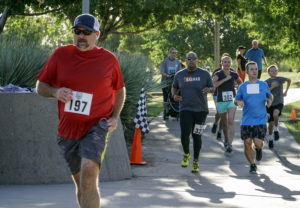 For those up to the challenge at 6:30 a.m. June 13, there will be a professionally marked 5k run. Our timing-chip-enabled bibs will tell us the winners in various categories, as well as identifying the top finishing teams this year. There will also be a one-mile Fun Run (or walk) that will cross the scenic Continental Avenue Pedestrian Bridge. Kids can do the Fun Run for free! Every runner will receive a dry-fit T-shirt and a swag bag from our sponsors. If you have other plans for Wednesday morning, sign up to "Run from your Bed" and pick up your swag bag on Tuesday afternoon at the SBTC booth in the Exhibit Hall.
Shuttles will take runners from the Kay Bailey Hutchison Convention Center to Trinity Skyline Trail beginning at 6 a.m. All runners will be back to the Convention Center by 8 a.m. if not sooner, in time for any meeting programming.
The Global Hunger Relief Run 2018 is being sponsored by the seven GHR partners–Baptist Global Response, the Executive Committee, the Ethics & Religious Liberty Commission, the International Mission Board, LifeWay, North American Mission Board and Woman's Missionary Union–as well as additional sponsors: the Southern Baptists of Texas Convention, GuideStone, the Southern Baptist Foundation, Arizona Southern Baptist Convention, Baptist General Convention of Texas, and Baptist21.
---
To register or find more information about the Global Hunger Relief 2018, visit globalhungerrelief.com/run.