Timothy+Barnabas Institute is a new coaching resource for pastors. Join cohorts of other ministers to be mentored by more-experienced pastors as you navigate life in ministry.
The two-year training includes:
Four in-person conferences at NAMB headquarters in Alpharetta
Monthly conference calls with your coach
Books, articles and resources to work through in between meetings
There are two tracks—one for pastors 45 and under and one for those over 45.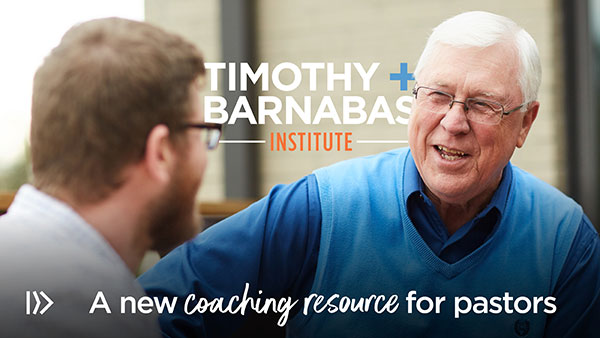 A deposit of $500 covers all sessions and lodging. Deposits will be refunded to all participants who have perfect attendance and complete the Institute, and scholarships are available.
Conference dates
January 21-23, 2020
September 1-3, 2020
January 19-21, 2021
August 31-September 2, 2021
At each conference, keynote speakers will set up topics, and then the pastors will break off with their coaches to apply them to their context.
Sample topics
The pastor's personal relationship with Jesus
Marriage and family life of the pastor
Pastor as personal evangelist
Finishing strong
Leading change
Strategic planning
Organizational leadership
Evangelistic preaching
Developing systems
Dealing with conflict and disappointment
Developing an evangelistic culture in your church
Discipleship pathways
And more
Coaches and speakers
Johnny Hunt
Vance Pitman
Jimmy Scroggins
Bryant Wright
HB Charles
And more
The Timothy+Barnabas Institute is separate from, but complementary to, Timothy+Barnabas Retreats.